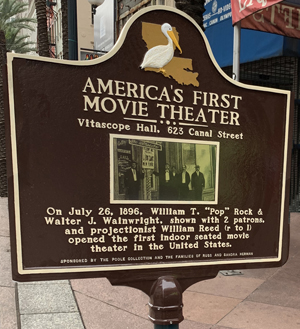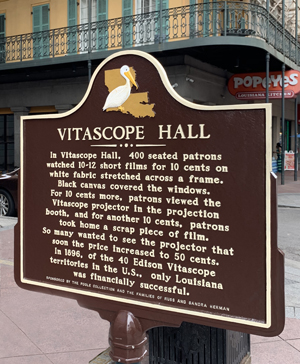 AMERICA'S FIRST MOVIE THEATER
A landmark on Canal Street, New Orleans
On July 26, 1896, the first fixed-seating movie theater in the United States opened at 623 Canal Street in New Orleans.  Admission to the 400-seat theater—basically a showroom fitted with a projector and filled with chairs and used church pews—was 10 cents. For an additional dime, patrons were afforded a glimpse behind the curtain to see the innovative Edison Vitascope projector that converted still, black and white photos into moving images up to a minute long.
Now, over a century later, The Historic Vitascope Hall has finally been commemorated with an historic marker that celebrates the location where American theatre-goers got their first glimpses of the technology that added motion to pictures.
For more than 20 years, installation of the marker has been a priority of Ed and Susan Poole, internationally known film historians and archivists. The couple's original application for the installation was submitted in 1996, to coincide with the 100th Anniversary of Vitascope Hall. However, theirs was not the first request for such; in their research, the couple discovered a 1912 article in The Times-Picayune calling for an historic marker. They were eager to bring that vision to fruition.
In 2014, the couple met Michael W. Domingue, the Louisiana Department of Culture, Recreation and Tourism's Recreational Trails Program Administrator, when the two were making a presentation about their book, Louisiana Film History: A Comprehensive Overview Beginning 1896, at the Louisiana Book Festival in Baton Rouge.
As soon as Ed shared the story of Vitascope Hall, Michael knew it was the crowning jewel for New Orleans and Louisiana as an important component of Hollywood South. He pledged to help make the historical landmark a reality.
Those efforts were boosted when Hollywood veteran Linda Thurman, author of Hollywood South: Glamour, Gumbo, and Greed, met the Pooles while researching a book about Louisiana's film industry. When she learned from them that this important piece of history was hiding in plain sight, she knew this was a story waiting to be told, and vowed to help them in their efforts.
Recognizing the significance of this effort, New Orleans philanthropists Russ and Sandra Herman signed on as sponsors to underwrite the project. With backing in place, the project moved forward with the support of Lt. Gov. Billy Nungesser. Lynne Coxwell, who oversees the Louisiana Historical Marker Program, helped with the application process.
Approved and purchased in 2016, the marker remained in storage for the next three years in a City of New Orleans warehouse while awaiting installation approval.  Mayor LaToya Cantrell's executive office director Amy Rodenberger brought the project to the attention of the mayor, who quickly appointed director of constituent services Bryon Cornelison to expedite crucial last stages and move forward.
That installation initiated in October of 2019, but was delayed by a need for further engineering studies. Louisiana-based engineer Paul Flower of Woodward Design + Build offered to orchestrate the design and installation of the marker on a pro bono basis. The installation was completed at the corner of Canal St. and Exchange Place on June 15, 2020.
It seems rather fitting that the entire installation process was an interesting journey in and of itself. In an industry built by storytelling, the placement of the historic marker is what could be considered the final chapter. Now the story continues to live on with each visitor who stands alongside that historic marker where it all began.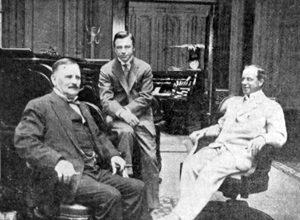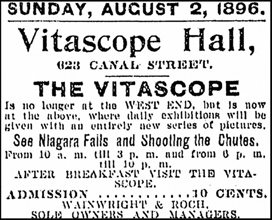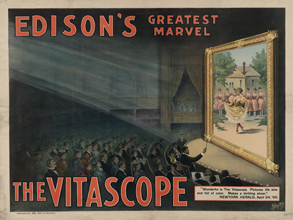 See The Vitascope Hall video produced by Hollywood on the Bayou (left) and "May Irwin Kiss," one of the first motion pictures shown in the theater (right).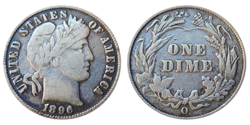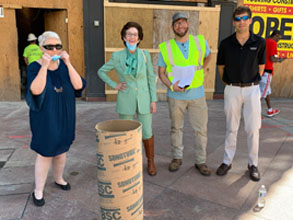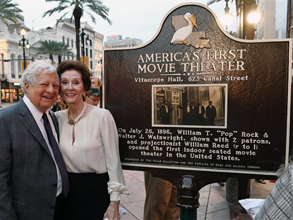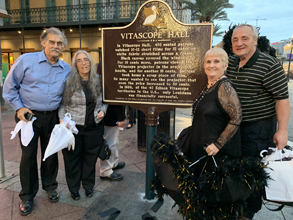 Left: the installation of the historic marker, with Linda Thurman, Sandra Thompson Herman and Woodward Design + Build's  project manager Trey Rodrigue and Superintendent Daniel Behlar, courtesy of CEO Paul Flower.
Center: Russ and Sandra Thompson Herman, historic marker benefactors.
Right: Louisiana Film historians Ed and Sue Poole with Hollywood veteran Linda Thurman and Michael Domingue, Program Administrator for Louisiana Department of Culture, Recreation and Tourism's Recreational Trails.