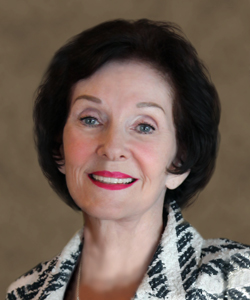 A LETTER FROM OUR PRESIDENT AND CEO
Dear Arts Enthusiasts,
This is a somber time for our great city. We send out our deepest condolences to those who have lost loved ones, and prayers to those who are taking care of loved ones who are ill at this time. To all those involved in the service industries in New Orleans—the front-line hotel, restaurant and grocery service people—please know that we see you, appreciate you and are praying for you. You are a huge part of what makes New Orleans so fabulous, and this city couldn't make it without you.
We are thankful for the helpers who stock and distribute the many food banks. We're grateful for all of the angels who have stepped up to sew face masks and deliver groceries to our seniors and at risk individuals. And most of all, we send our love and strength to all our courageous healthcare workers, first responders and law enforcement officers. The word "heroes" seems incredibly inadequate, and we forever will be grateful for each of you.
As officers of the New Orleans Entertainment Coalition, Linda, Kim and I have been searching for ways to share messages of hope. The mission of this 501(c)(3) is to promote global awareness, education and celebration of the arts and culture as a means to enhance quality of life, support tourism and strengthen the economy.
It's safe to say that the global awareness of the arts has never been more evident than it has been in 2020.
As we turn to the web for news and updates, our hearts are filled as musicians offer streamed concerts from their living rooms and as choirs and orchestras embrace technology to provide socially-distant yet powerfully connected performances. We're even seeing neighbors step out on their balconies to sing in unison. In doing so, they are proving that music is a universal language for which we need not know the words, for every time we see these, our hearts sing. The world is tuned in as visual artists provide online tutorials and celebrities share storytime for audiences of all ages, reading some of their favorite books.  Countless art galleries are providing virtual tours and theatres are streaming performances. In the midst of all the chaos, the arts have provided pure—and much needed—joy.
On our website, you will find highlights of some of the projects NOEC is actively supporting and more projects are in the works.  
If you are like most of us spending much of our time at home, I encourage you to think of this time as a powerful time to focus on your dreams and your creative ideas. 
On a daily basis, I am embracing this time to focus on creating positive energy.  On both my computer and my phone, I keep a file called "Inspiration" in which I file quotes and articles that have inspired me. Here is one from a father to his son that seems rather apropos in these unprecedented times: 
"I trust that this day finds you in great spirits and full of hope and wonderment!  Keep your mind open to learning and your heart open to love.  Keep hate as distant as an enemy and forgiveness as close as a friend.  Be kind to strangers but be vigilant as to their intent.  If you are blessed with abundance, remember to be thankful and to share, be not a hoarder except for love and graces."  — Unknown
Please join us on this journey!  Together, we will come out of this crisis stronger, with greater resolve, clearer vision and strengthened priorities. Once again we will be forever grateful to live in a city made up of people who continually demonstrate the Power of Love through their actions and deeds toward one another.
Sincerely,
Sandra Thompson Herman
President and CEO
New Orleans Entertainment Coalition